Fun girls weekend getaway – typical schedule!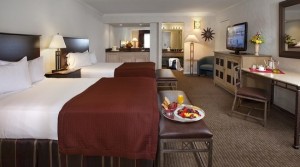 3:00 pm on Saturday – Start your girls weekend getaway by signing in at the front desk to  get your "cabin assignment".  Room and taxes are all paid, you will only need a credit card on file for "incidentals".  (Even the Bellman & Maid gratuities are pre-paid) Relax, enjoy some time to settle in.
4:30 pm – Join us in the GGC Suite where you will be introduced to new friends and enjoy a fun ice breaker to ensure that everyone gets to know each other and feels right at home. You will be welcomed by your Camp Director, Jill, and she will share her personal story and journey to creating Grownup Girlz Camp. Get ready then to partake in a lively Happy Hour before we enjoy a wonderful dinner together.
7:00 pm – At this point you'll have about an hour to go to your room, unpack and relax before we finish the night off with a super cool (probably sappy) chick flick movie night. Don't worry, we won't forget the popcorn!  Get a good nights rest because we continue the girls weekend getaway festivities tomorrow.
On Sunday, sleep in (ahhh… so good), swim, read, anything your heart desires!  A wonderful Sunday Brunch buffet is included but it is "on your own" so you are not tied to a scheduled time.  You have free time until 11:00 am.
11:00 am – We will reconvene with a breakout session where we provide everything you need to try a fun activity or enjoy spending time doing something you already love but may not always have the time to devote to it.  Then it is lunch time!  We will enjoy another delicious meal together.
1:00 pm – After lunch we will have two more exciting planned activity sessions before the camp closes.
4:30 pm – Camp closes (boo hoo, we will miss you!)
Throughout the girls weekend getaway we promise you lots of fun and surprises! We promise you will LOVE your fabulous girls weekend getaway!
One of the planned activities not your cup of tea?  No worries, This girls weekend getaway is all about you, so feel free to bow out and just relax to your heart's content!
You won't need your wallet all weekend!  The room, all meals and activities are included in your registration fee.
Meet your girls weekend getaway camp director!